Largest Conferences in the World
Attending a few events or conferences will give so many benefits to every professional out there. It's either you want to connect with better clients or learn about the innovative and new trends, or you're looking for the latest professional and networking opportunities to progress. You have to know that going to these events or conferences is very important for growth and development in what you do. With that, here are some of the largest conferences in the world below that will definitely help you achieve whatever goals you have.
Sibos
Sibos is organized by SWIFT for the financial industry. It is an exhibition, conference, and networking event that is held once a year. SWIFT is a well-known provider of secure and innovative financial messaging services. Its role is to empower thousands of corporations and institutions in different countries around the world to exchange and connect financial-related information reliably and securely. On top of that, SWIFT convenes people in the financial community to work together in shaping the market practice and discussing important and relevant mutual interest issues.
Moreover, in its inception, Sibos was a banking operations seminar in 1978. Then, after more than 40 years, it now becomes a massive financial industry's world annual conference. It's the premier financial services event organizing annual conferences that build the bridge to connect thousands of decision-makers, executives, and thought leaders coming from different industries.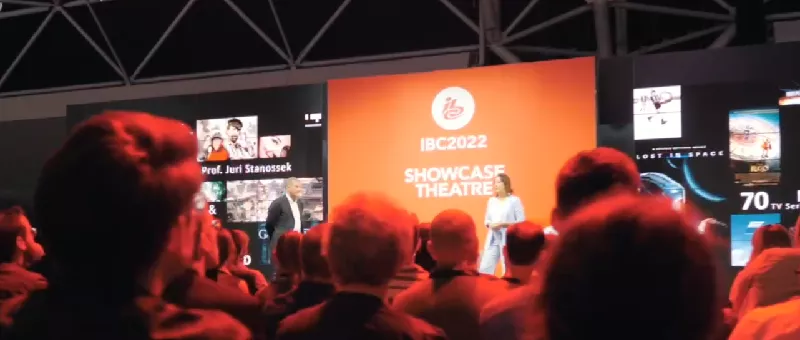 IBC
IBC is a popular technology and content event that provides innovative and beneficial experiences to attendees from the industries of entertainment, media, and technology. For many decades, it continues to bring new technologies into this fast-changing world. So this resulted in the evolution of the events and the progress in the organization of IBC.
Today, IBC never stops calling all speakers, exhibitors, visitors, and all people in this community to support each other and engage in the work to achieve the common goal. It always seeks opportunities in business, looks for advancements and innovations, and even explores the world of exciting and interesting content.
In fact, one of the great projects they have is the IBC Accelator Media Innovation Program. It provides a solution to any challenges in technology and dealing with entertainment and media businesses. IBC created this program in 2019, and they're now planning to put it back this year, 2022.
SMB Digital
Transformation in the digital world is the key to becoming more efficient and profitable and having more opportunities in any organization. That's why SMB Digital comes into existence to help many business owners out there fully understand the best way they can leverage new technology to strengthen their organization even more.
SMB Digital provides speaker program content and specialized solutions in technology to people in different industries who offer professional services. Besides that, as a B2B event, it also convenes customers and suppliers together for a content program, exhibition events, and amazing opportunities for exclusive networking for IT decision-makers, C-Suite, and Managing Directors. All of these aim to address different challenges and issues related to legacy systems updates, technology utilization, data analysis, cyber risk management, and many more.
International Confex
The International Confex aims to support and drive the events industry toward success by providing an environment of convenience in this community. It's the largest gathering where service providers, event professionals, thought leaders, and buyers in the UK meet to support each other and achieve a common goal.
International Confex offers opportunities to help you move to a higher level of creativity and innovation, especially if you are in charge of organizing conferences, exhibitions, product launches, corporate meetings, and many others. This three-day event always has something special for you to learn and grow that you will surely don't want to miss out on.
You can visit their website to learn more and discover how can you take advantage of what you can get from the said event, including amazing and unforgettable experiences for your trainees, visitors, delegates, and everyone in your community.
National Planning Conference
The NPC or the National Planning Conference of the American Planning Association is a massive event where thousands of event professionals worldwide meet together to discover hundreds of learning opportunities and have a chance to get engaged in different exciting interactive sessions.
After organizing virtual-only conferences for two years, NPC allows planners to attend either online or in-person this year. You have to know that each venue of the said event will have unique content and different sessions. So no matter what your budget is and your preference, the National Planning Conference always has an experience fit for everyone's needs.
AIME
The AIME or the Asia Pacific Incentives Meetings Events is a popular trade event in the Asia Pacific Region for the event and meetings industry. It's where you can find a massive number of decision-makers who want to craft, network, and do business with people in different parts of the world.
AIME has an objective to bring all buyers locally and internationally to gain access to the best exhibitors coming from different countries and to attract and connect with the right people who can do business with them. So if you're a person who needs to get engaged in this community, immerse yourself in the environment that AIME provides to help you gain knowledge and skills, promote networking and connections, and succeed in your passion.
IAVM
The IAVM or the International Association of Venue Managers is designed to inspire and educate venue professionals in public assemblies from different parts of the world. It now has thousands of active members, including senior executives and managers from convention centers, auditoriums, stadiums, and many others.
From July 18 to 21 this year, IAVM offers the VenueConnect Conference and Trade Show which has an objective to provide the attendees with networking opportunities and targeted education for all professionals in venue management. That includes universities, amphitheaters, arenas, and many more.
IMEX America
IMEX America features amazing educational sessions that are designed to the learning preferences of the attendees, keynotes from different industry experts, and even countless opportunities to build a network or connection with people of the same interest. As the global conference for meetings, events, and incentive travel, IMEX America is a particular industry event that thousand of professionals in business should not miss attending.
CES
CES, or the Consumer Electronics Show, is one of the largest technology conferences in the world. It is an annual event held in Las Vegas, Nevada, where companies showcase their latest innovations and cutting-edge products in the tech industry. The conference attracts a global audience of tech enthusiasts, industry professionals, and media representatives who come to see the latest gadgets, software, and hardware on display. CES has become a platform for companies to announce new products, share their vision for the future of technology, and make important business connections.
At CES, attendees can expect to see a wide range of products from various categories, including smart homes, virtual reality, robotics, artificial intelligence, and wearable technology. The conference also features keynote speeches from industry leaders and experts who share insights on the latest trends and advancements in technology. CES has grown in popularity over the years and has become a must-attend event for anyone who wants to stay ahead of the curve in the tech industry.